Total You Mat Based Virtual Class

:
Thursdays 10:00 am MST via Zoom
Donation Based
Motion is lotion they say! First we release tight tissue with self massage/myo facial work then we re-integrate, strengthen and lengthen muscles and tissue. The correct way! Using props like the therapy ball, stability ball, yoga blocks, and foam roller.
Email hillarybr@gmail.com to register!
Roll & Release

: Foam Roller
In Person & Virtual Sept 30th 2021
Roll & Release
Sept. 30th, 6:15-7:30pm
Release tension in the body to aid more efficient recovery in this guided foam rolling workshop with Hillary Brown.
Bring a 36" foam roller, (soft or hard), and a yoga mat to roll on.
$35 REGISTER In Person
Roll & Release: Coming in October!

Join Hillary Brown as she guides you through self massage myofascial techniques to release tight sticky tissue using therapy balls and props. Your body will feel liberated and yummy! Each week we will focus on a different line of tissue and facial train (Based of Tom Myers Anatomy Trains).
This roll and release workshop will transform your body and tissue, leaving the body relaxed, renewed and restored. Using props you will learn self myofascial release and self massage techniques to hydrate and restore stuck sticky tissue leaving your body grounded, renewed, feeling relaxed, loose and an instant increase in flexibility and range of motion. Think sore tight muscles changing to flexible, expansive and liberated! You know
Lead by: Hillary Brown

*All who register receive recording! Can't make the workshop? No worries! Register for the virtual session and we'll send you the recording.
Props needed:
– Two tennis or therapy balls
– Tube sock or casing for tennis/therapy balls
– A Foam roller and yoga block are always nice to have on hand as an additional prop. These and yoga mats will be offered at the studio yet with limited supply.
SKILATES:


A Winter Sport Conditioning Pilates Workshop with Hillary Brown
Winter Sport Conditioning
Friday Mornings at 8-9 am. Beginning Oct. 1st through 29th.
$175 for 5 sessions. $40 Drop in. REGISTER HERE

A conditioning and injury prevention class series using Pilates-based ski/snowboard specific exercises. Focusing on principles of ski and snowboarding form, technique, and demands. Provides important muscle coordination and strengthening of lateral movements to prevent compensation and injuries.
Partner Thai Stretch Workshop with
Hillary Brown and Ben Navarro.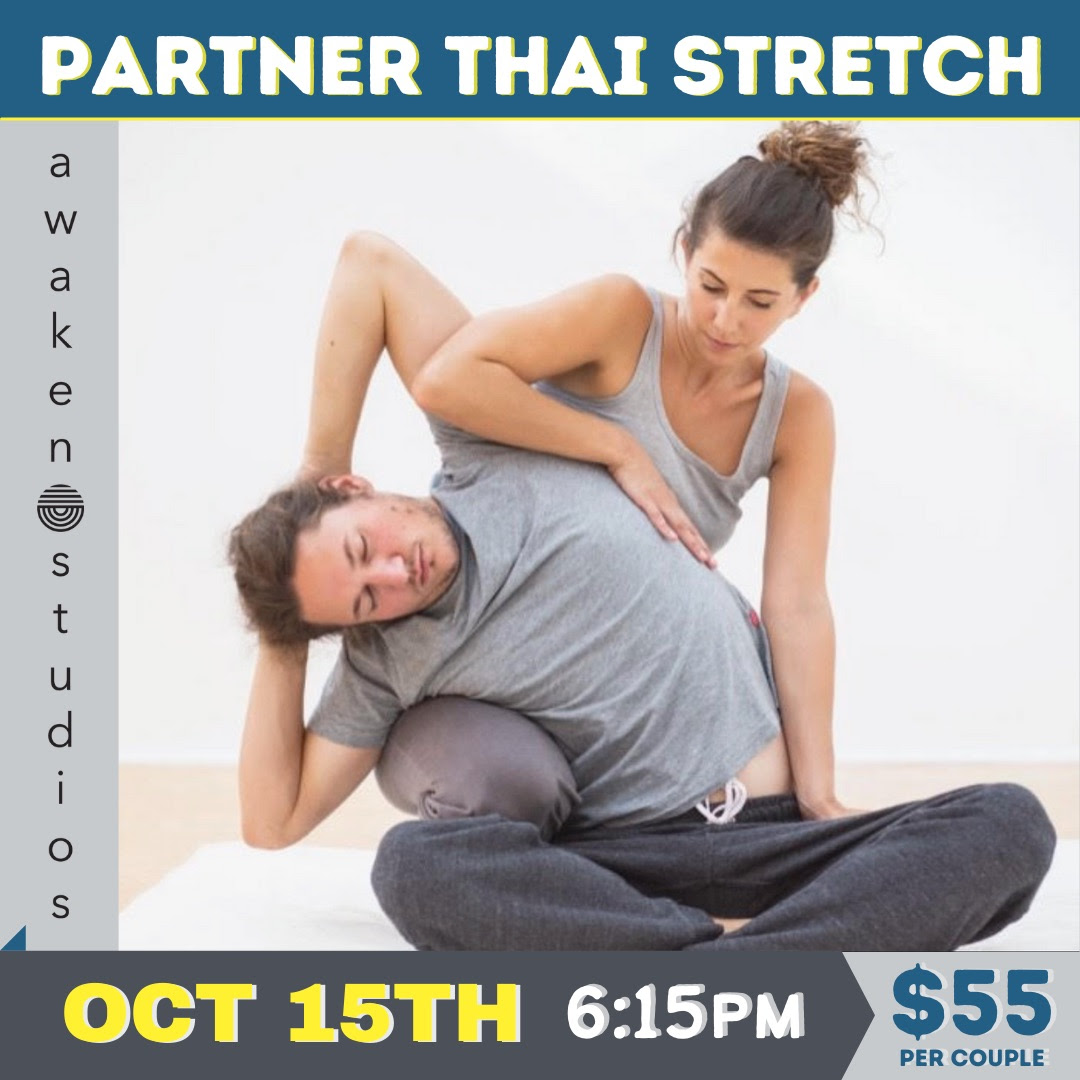 October 15th from 6:15-7:45pm.
Bring a partner to this fun yoga meets bodywork experience!
Thai Partner Massage combines gentle poses with assisted stretching and massage along energy lines that run through the body. Taught by Awakens own Hillary Brown and Ben Navarro.
Partners will learn massage elements like muscle manipulations, kneading, pressure points, and stretches. You are sure to leave feeling restored, stretched and connected.
$55 REGISTER In person


Total You Founder Hillary Brown offers the above and below workshops by request:
PILATES OVERBALL WORKSHOP:
40.00 (Overball included)
1.15 Hours

Feel AMAZING with this Pilates workout using the Overball! A wonderful tool for people of all skill levels, the Overball mobilizes and liberates the rib cage and pelvis. The Overball will access deep muscles to strengthen your core. You will tone and strengthen stabilizer muscles while helping you breath better, move more efficiently, decrease pain, create internal suspension, and make you better at everything else you do!
You need this workshop if you:
Experience tightness
Experience low back pain
Want to increase your breathing capacity
Want to strengthen your core (we will go over what that means exactly)
Have pelvis instability (culprit in low back pain)
Want to experience a great workout that you can do at home or while traveling.
Overballs are included in the workshop fee to take home.
Space is limited
Bring a mat, hand towel and water.
Manoa Japanese Language School Dance Studio
2804 E. Manoa Rd. Honolulu 96822
Parking on E. Manoa Rd or behind MJLS
(Take Oahu Ave, turn right on Anuenue St.)
Foam Roller Workshop
45.00
1.5 hrs
Back by popular demand! Enjoy this 1.5 hour Pilates Foam Roller full body workout while stabilizing and toning muscles as well as relieving tension and tight tissue. With the roller you will increase mobility, loosen tight muscles, relieve back pain, gain deep core strength and get a great workout that you can add to your every day routine.
Who Needs this Workshop:
Athletes looking to increase their speed and mobility
People with low back pain
People who want to gain deep core strength
Anyone who experiences tightness
Everyone else!
3 Ft Rollers are needed and can be provided upon request. Please email hillary@thetotalyoullc.com to request a roller.
Bring a mat, hand towel and water.
Space is limited